Mazahome is a property consultancy. Our friendly and reliable staff are professional people with connections in the area who have been working in the property business for years. We work with notaries and lawyers who can speak your language and will help you make the process as easy as possible. We will make sure there are no legal issues to worry about and help you at all stages of the process: before, during and after.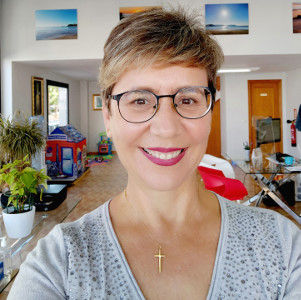 Miren Cayuela Castillejo
I am originally from Madrid but my family roots are in Totana and Mazarrón has been my second home all my life.
My university degrees are related to teaching and psychology, I am a teacher specializing in English and I have a Bachelors degree in Psychopedagogy but life's paths have led me to the real estate world because of my knowledge of the language, of foreign countries and people (I lived in the UK for seven years and in the US) and my business heritage. I have always loved the commercial world and working with people.
Mazahome differs from other real estate agencies in that we really work to find a home at a good price and value for money and to make the process as easy as possible so that our clients do not have to worry about anything. We provide a great service to both the buyer and the seller and we take care of all the paperwork. The hallmarks of our company are concern for our clients and our local knowledge.